Welcome to www.veghead.com

Our DISPLAY PAGES have all the items in a classification spread out on a page so that you can see everything at once rather than looking at items sequentially. We are no longer taking orders through our display pages but only through our Catalog section. Many people, though, find it is easier to see everything in a category at once on the DISPLAY PAGES. If you choose to browse through the display pages, we recommend that you write down the Item numbers you want to order and then enter them individually in the search box available on the left of the Catalog main page to bring up the items you want and put them in your shopping cart to check out through the Catalog. If you see an item on our DISPLAY PAGES that you cannot locate in the CATALOG, please let us know. There are a few categories that have not yet been added to the catalog, but most have been. Our CATALOG has shopping cart convenience and search functions and many of the items can be seen in larger images when clicked on.

---
---
---
Our current shipping/handling charge is a flat $12.00 (continental US). For more information on shipping and shipping charges click here.
For Tennessee orders, we will have to collect sales tax of 9%.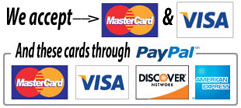 We accept VISA and MASTERCARD and most cards through PAYPAL - or you can mail in a check or money order.
We do not take orders over the telephone, as we are on a working farm and do not have staff to handle phone inquiries.
Please feel free to email questions before ordering, as we want to be sure before we proceed that what you are ordering is exactly what you want.
If you are not happy with any item ordered, please return the item in new condition within 2 weeks of receipt
(special order items excepted). Click here for more information on returns.

We often get requests to send orders outside the United States but we can no longer accept international orders.
Come back soon and see how we're doing with new groupings.
You can send us e-mail.
---
| | |
| --- | --- |
| "If we show the rest of our brother creatures the compassion we think we are entitled to from the Almighty, we might deserve it." -Cesmir | Today is |